Looking to add personality to your new home? Consider remodeling your bathroom!
We've created a shortlist of unique ideas that you can use to refresh your space.
You may wish to create a Bathroom Sanctuary, for a more tranquil atmosphere.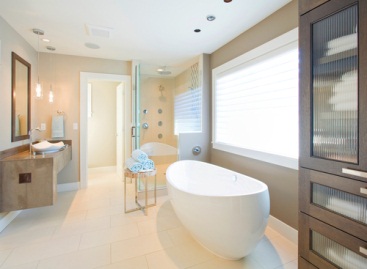 You might add personal touches: a featured wall or perhaps your favourite pieces of art.
In fact, tranquility might be achievable, simply through dressing beauty products in an elegant display –giving them that luxurious "Hotel Treatment".
For More Design Tips, Click Here! Plus, take a look at Fardis' Collections, and find the design that inspires your very own sanctuary!
Conversely, you might decide on a bold, more daring, space with a Moroccan-Inspired design. Talk about adding character!
By juxtaposing vibrant colors with unique geometric patterns, you too can relax in an exotically luxurious space.
Moroccan-Inspired, bathrooms, by Chris Barrett Design and Utopia Lifestyle, respectively.
For More Design Tips, Click Here! You may also be interested in Fardis' Morroc, which offers a wide range of bold and inspired geometric wallpapers.
Lastly, you may opt for a warmer design –the Cosy Haven! To create this cosy space, you may choose to introduce earthy, natural accents, such as wood and/or dark stone.
These elements can be used to add definition to, or as bold statement pieces in your very own bathroom redesign.
You might include live plant in your design, to add a dash of colour and airiness!
For Even More Design Tips, Click Here!