Digital wallcoverings that offer endless design possibilities.
Our mesmeric designs are scalable, customized and plentiful to choose from. In fact, what makes WALLMOTION unique is our level of adaptability to any number of design needs or aesthetic senses.
From magnificent decorative to woods, vivid abstracts or modern minerals and inky metallic alternatives, our digitals can bring your design ideas to life! We're always inspired by the newest, and most exciting, trends in the world of interior design.
Below, we've included our latest –and favourite – wallpapers from our striking digital collection.
Decorative Wallpapers
Patterns and Classics
Our eclectic decorative wallpapers range from patterns to classics, and intricate geometric prints. Muraspec's designs are ideal for an elegant touch for any design scheme – ultramodern, traditional or otherwise.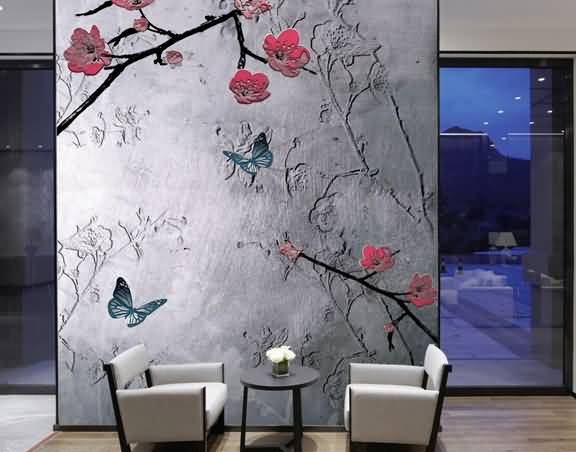 For more designs, visit Wallmotion Decorative.
Abstract Wallpapers
Graphics, Stripes & Other Effects
Striking graphic, striped and geometric wallpaper for a chic contemporary design scheme…with an artistic twist!
For more abstract wallpapers, visit Wallmotion Abstract.
Metal-Look Wallpapers

Vert-De-Gris & Foils
Muraspec's digital vert-de-gris and foil effects are perfect for your striking design scheme. Our inky patina finishes are also stylish, luxurious and make Wallmotion Metals our digital wallcoverings of choice.
These metal-inspired designs tie your space together with a sleek contemporaneous touch.
Check out Anita Rosato's striking stand at The Sleep Exhibition, which features the above Wallmotion Metal, 00390.
For more metallic-look wallpapers, visit Wallmotion Metals.
Mineral-Look Wallpapers
Brick, Stone & Concrete
Authentic, mineral effect wallpapers – from brick to stone, concrete and more! Our natural-look digitals are a breath-taking, trendy backdrop for your urbane industrial design scheme.
For more minerals, visit Wallmotion Minerals.
…And Woods!
Engineered Timber, Driftwood, Planks & Wood Inspired Graphics
Our wood-inspired graphics add charm, character and a rustic touch to the modern design scheme. These creative, driftwood inspired wallpapers are an inspired take on the "bring the outside in" trend.
For more wood-inspired options, visit Wallmotion Woods.
More at http://www.muraspec.com.