From decorative panels, to wallcoverings in thousands of colourways, our products are all manufactured at our Kent-based facility. Our solutions are high quality and durable, whilst also being on trend and fairly priced.
This promise extends into our top-notch Impressions panels, a perfect fit for the finest hotels, shops and residences worldwide.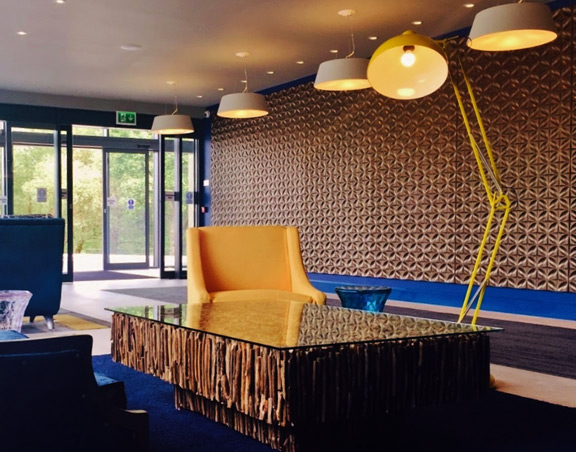 Created by Muraspec, the artistic Impressions collection is a practical, and efficient way to add real impact, and atmosphere to any design scheme. A visionary design, overlaid onto rich MDF panels, leads to Impressions' characteristic visual impact; a laminated finish similarly adds a necessary layer of durability.
From waves to geometrics, Impressions' panels are available in a range of finishes – including wood veneer and high gloss. Our range is available in thirty-one, readymade alternatives or you may opt for the "customer's own design" option wherein you provide us with a design, and we build it for you.
Given our unrivalled service and loyal customer base –around the globe – Muraspec has proven to be the right partner for any design challenge. Here, we've included a quick shortlist of projects, all featuring our very eclectic range of decorative panels.
Dixons Carphone at Oxford Street, London U.K
Dixons Carphone employed Muraspec as the decorative solutions provider of choice for their trailblazing, new flagship store on the iconic Oxford Street.
The multinational company opted to install over 50 sq. ft. of Dynamo's LED panels – breaking records for the largest digital display on Oxford Street! This 'feature wall' was then encased within our very own, bespoke panels to create a high-tech digital experience, befitted for a company of the Digital Age.
Grosvenor Casino Gloucester Road, London U.K
Take a look at our Crystal design, a focal point at this Gloucester Road Casino.
Design by: Fisch Design.
Photos by: Matthew Ling Photography.
Queen Elizabeth University Hospital, Glasgow Ireland
Featured at Glasgow's Queen Elizabeth University Hospital, we have the remarkable Walnut & Black range. The below designs are Symphony (vertical hourglass) and Branches (tree effect), respectively.
Design by: Space Solutions
Check out Impressions' Photo Gallery.
For more information, visit us at muraspec.com
Bespoke options are also available! Contact us at customerservices@muraspec.com for more info. Or call us at 03705 117 118.